Karlsson's vodka treats special varietals of potatoes like gold.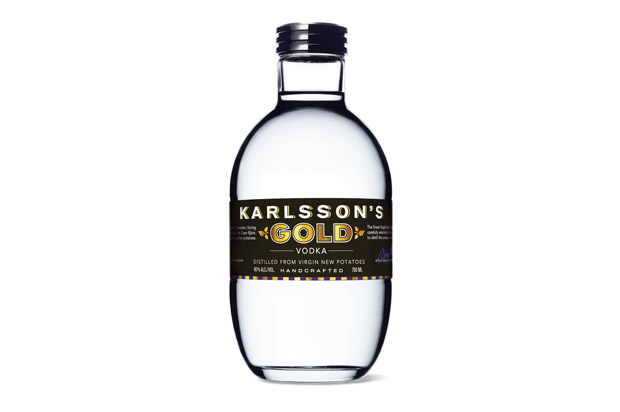 Each year in Sweden, the first harvest of heirloom potatoes plucked from seaside Cape Bjare is auctioned off on live television, an annual event akin to Groundhog Day in the United States. The Swedes take their potatoes seriously, can name varieties like others quickly identify apples or pears, and include them in most every meal during the harvest season.
Karlsson's vodka, unlike almost every other brand that uses the starch-heavy, super-sized potatoes, is distilled from these tiny, delicate heirloom varieties that are harvested even before the skin is mature. Chosen for their flavor rather than their ease of distillation, 17 pounds of potatoes are required to make a single bottle of vodka. Karlsson's distills seven different heirloom potatoes including Old Swedish Red and Solist, producing vodkas that range wildly in flavor from crème caramel to onion and mushroom, from salty to sweet to savory. Karlsson's master blender, Borje Karlsson, who created the recipe for famed Absolut, then combines these individual distillates to create Karlsson's Gold, a magnificent spirit straddling the boundary between vodka and potato eau de vie.
After a few years with the blended product on the market, Karlsson's began releasing single-varietal, vintage-dated vodkas highlighting the flavor of an individual potato; something no other brand had done before then. These bottlings from 2008 and 2009 potato varietals priced at about $70 may shock the vodka lover with their pungency but no doubt thrill the potato lover. And after all, they were created with that in mind.
karlssonsvodka.com