Of Mountains and Medinas
Filled with exquisite sensory overload, glamorous Morocco casts its sensual spell on travelers.
Morocco
Combine Morocco's natural grandeur with its colorful, sensually vibrant cities famed for their ancient kasbahs, action packed souks, and romantic riads and luxury resorts, and you've got an irresistible destination. For decades artists, writers, musicians, and style-makers from Henri Matisse, Paul Bowles, Beats like Jack Kerouac and William Burroughs, the Rolling Stones to Yves St. Laurent fell under its spell, and made their home in Morocco.
Marrakech is not the sort of city that can be absorbed in a single day because it has it all. History, romance and atmosphere, you name it, the city exudes a happening, hip vibe, veiled with an aura of mystery. The architecture is awe inspiring, the gardens glamorous, the shopping a dizzying delight. Everywhere there is vibrant color and energy. There's enough history here to keep traditionalists happy.
The key to enjoying the marvels of Marrakech is to explore the city by wandering through its many ever changing neighborhoods. A must-visit is the Medina. Surrounded by 12th-century walls, the Medina is a bustling area nearly double the size of New York's Central Park. In the Medina, vendors selling pyramid-shaped pleasantly pungent aromatic mounds of spices – turmeric, paprika, cinnamon – are shouldered by stalls and shops touting handcrafted shiny silver objects, delicate caftans and of course, the dizzying famed rows of multi shaped rainbow hued babouches (slippers). Along its meandering narrow streets are romantic riads, a seductively beckoning souks (markets or bazaars) and relaxing hammams (turkish baths). Many of the city's special sights are within these walls, including the 14th-century Koutoubia Minaret tower overlooking Place Djemaa el Fnaa, the city's lively central square and cultural heartbeat. At night the air is filled with the scent of spicy sausages and stalls abound with mounds of snails, and boiled sheep's head. Here, Gnaoua musicians sing their native songs, hypnotic snake charmers and monkey trainers mingle with witch doctors and fortune-tellers. It is a must-experience world of medieval magic.
PHOTO: ©Moroccan National Tourist Office
PHOTO: ©akbardelights
Opposite: Sunset over Djemaa el-Fna Square, Marrakech's cultural heartbeat; Above: Stylish kaftans and Moroccan influenced sequin-embellished cover ups are found at the expat-owned Akbar Delights boutique in the heart of the souk.
Royal Mansour Hotel
It took King Mohammed VI, the King of Morocco, and 1200 of the country's best artisans and builders to create the showpiece homage to Morocco's splendors, the extraordinary Le Royal Mansour.
Le Royal Mansour experience begins at the airport tarmac. Guests are escorted to a private VIP suite where their entrance customs are expedited while they sip tea on plush couches–just one of the many perks of being a guest of the beloved King. Visitors arrive at Le Royal Mansour via a tree-lined drive to a gorgeous courtyard with impressive flowing fountains and handcrafted tiles.
Artisanal touches abound throughout the property: an antique cage with pale parakeets who chirp their morning greetings; sculpted silver ceilings; pink-gold mirrored walls and mother-of-pearl inlays; and intricately handcrafted bathroom fixtures. Guests rarely see the staff members (seven staff to one guest) as they use underground passageway tunnels and secret elevators to access each room. Each riad is assigned two personal butlers (AM and PM shifts) who are exceptional, discreet and ready to make your every Royal Mansour desire a reality.
Its spacious fifty-three three level traditional guest riads are perched on more than twenty acres of land. And like the riads in the medina, the Royal Mansour's riads are built around central entry courtyards where the fountains are filled each morning with floating white roses and red carnations. Rooms are on different floors. Soft silks and opulent velvets make the upholstery irresistible and the inlaid wood tables are adorned with freshly picked fruit. Lalique and Baccarat crystal wait to be filled with delicious elixirs. Marble stairs lead to the extravagant bedrooms with carved ceilings and latticework and painted wainscoting. Other details include leather desks with embroidered panels and beaded silk pillows. The bathroom is a work of art with etched marble and inlaid with motifs. The shower glass has latticework patterned inlays of silver. The pièce de résistance? The top floor outdoor terrace (complete with loungers, lanterns, a couch corner with a flowing Bedouin tent and a dipping pool) and snow-capped Atlas peak views. Hauntingly beautiful melodic sounds of the calls to prayer from the nearby Koutoubia mosque mesmerize.
Fragrant Moorish gardens and a heated saltwater swimming pool surround the pale marbled 27,000 square foot spa where traditional hammam treatments and modern spa amenities allow guests to create their own personal bliss. Here, experts will wash, scrub, shine, dip, and stretch you into an incredible different world!
The Royal Mansour is also home to the notable dining venues, La Grande Table Française and La Grande Table Marocaine. Both are places where gourmands and design mavens delight. The restaurants' menus, created by Yannick Alleno, the daring young chef who took Paris by storm when he won three Michelin stars at Le Meurice hotel, feature authentic French and reinterpreted traditional Moroccan cuisines.
Dinner at La Grand Table Marocaine is a must. Decorated with flowing curtains evoking a Moorish palace, La Table's low slung tables have handcrafted flickering teardrop lamps from famed local bronze atelier Yahya, to best show off the tagine with clams and the delicate couscous and lamb tagine with peas paired with some of Morocco's finest wines.
Le Royal Mansour brings the best of the best of hotels to a whole different level.
Royal Mansour Hotel
Rue Abou Abbas El Sebti,
Marrakech 40000 Morocco
011 +212 (0)5 29 80 80 80
royalmansour.com
Marrakech
Exploring the ancient city of Marrakech is an endless adventure. Shopping options abound in the many souks. Many of the city's finest can be found in the trendy warehouse-dotted Gueliz district. Also known as nouvelle ville, this area lies just northwest of the Medina. Many of Marrakech's design forward shops are found along its main thoroughfare Avenue Mohammed V, as well as excellent restaurants and boutiques around such piazzas as Place de la Liberté, Place 16 Novembre, and Place Abdelmoumen Ben Ali. Fashion forward shoppers visit ateliers like YAHYA for intricate bronzework, and the shops KARIM BOURIAD, MOOR, and STUDIO LALLA, home to a gorgeous collection of vintage Moroccan fabrics, leather goods and north African charms and talismans.
Other parts of the city beckon with their exceptional shopping experiences. Must-visits are global darlings like MICHI, for Japanese influenced designer bags and babouches, AU FIL D'OR, a jewel box of a store with a cult following, offers kaftans, shirts and jackets with traditional elements. Other treasure troves are AKBAR DELIGHTS, that sells some of the most stylish kaftans and Moroccan-influenced fashion in Marrakech, and MUSTAPHA BELAOUI, a kind of Ali Baba's storehouse, filled with irresistible treasures. Drop by BELDI. Considered the haute couturier of Marrakech, this chic little den offers lush velvet coats, hemstitched kaftans and loose linen shirts.
Marrakech's dining destinations are some of the world's best. The iconic restaurant DAR MOHA on Rue Dal El Bacha is set in an elegant 19th century riad in the medina that was previously owned by the venerable French designer Pierre Balmain, who spent many years at this hidden oasis. Swiss trained Chef, Moha Fedal, dials back the heaviness of traditional Moroccan cuisine, unveiling a light touch. His delicious tagines and gorgeous fresh salads are best enjoyed outside by the reflecting pool and potted palms. Another excellent spot after a day of shopping the souk is the renowned TERRACE DES EPICES. This hip, rooftop café boasts a number of striped curtained private cabanas with woven red awnings, and a relaxing lounge area where low tables and pillow strewn couches beckon diners to enjoy the marvelous carrot-ginger soup and turkey tagine. However, the real scene-stealer of this cafe is the postcard-perfect view of the city's rooftops.
Perhaps the most authentic Moroccan dining experience is to be had in the stalls of Djemaa el-Fna Square.
In 2001 UNESCO declared the Djemaa el-Fna a 'Masterpiece of World Heritage.' The action here has been non-stop since about 1050 CE. Daily, you'll find snake charmers dancing with hissing cobras, nimble acrobats, vibrantly hued dancers, henna tattoo artists and animated water-sellers loudly banging brass cups together. In the evening hundreds of chefs set up their grills to feed the hungry throng, while musicians play to the crowds.
There are also plenty of cultural opportunities in Marrakech. Whether you're a nature lover or an art aficionado there is something for you in Marrakech. Garden enthusiasts will marvel at the beautiful Jardin Majorelle. Conceived and constructed by the French painter Jacques Majorelle, this is a vibrant blue hued living work of art forty years in the making. Members of the culturati will be enchanted by the collection at The Islamic Art Museum — home to the personal collection of Islamic artifacts owned by Pierre Bergé and Yves Saint Laurent. Looking for something classical Moroccan on an epic scale? A visit the stunning Bahia Palace is a must. With 160 lavishly decorated rooms, many complete with reflecting pools, the massive palace is where you can lose your self, along with your sense of direction in this stunningly ornate maze of beauty.
Villa des Orangers
The French owners of Villa des Orangers Marrakech's only Relais et Chateaux property, worked closely with local artisans to create a special stylish hotel with an elegant private residence feel.Berber carpets, wood and iron work, black and white historic photographs mingling with grand fireplaces and flickering handcrafted lanterns offer a distinct sense of place. Guests are welcomed with the intoxicating scent of orange blossoms as they make their way into the intricately-tiled fountain courtyard.
A leisurely lavish lunch under the property's beautiful orange trees is derigueur for both locals and guests. I recommend the sea bream tartare! Try to visit the beautifully serene Nuxe Spa before lunch for one of Marrakech's best traditional hammam and scrub treatments.
Villa des Orangers
La Villas Des Orangers
6 Rue Sidi Mimoun 
Place Ben Tachfine, 
Marrakech 40000 MA
011+212 (0)5 24 38 46 38
lavilladesorangers.com
Palais Namaskar
Venturing just twenty five minutes away from Marrakech's bustling Medina, you'll find a world of serene opulence at the extraordinary Palais Namaskar.
Some may recognize this exquisite hotel from the opening credit scene of the television series The Tyrant, while others may see an oasis of well being in a tranquil setting between desert and majestic mountains. All will be charmed by this ultra-modern hotel where feng shui masters were even consulted to ensure ultimate comfort and ease.
Located in the Palmeraie neighborhood beneath the Atlas Mountains and the dramatic Djebilet Hills, Palais Namaskar covers over twelve acres of gardens and reflecting pools with decadent villas that are ideal for couples looking for a secluded, indulgent and exceptionally luxurious hideaway. It is a relative newcomer to the area, opening in April 2012 as a new masterpiece hotel of the prestigious Oetker Collection. A Franco Algerian protégée of Philippe Starck expertly designed the public spaces and sun-filled rooms, suites, villas and palaces bedecked with low slung seating, woodblock tables, marble floors and indoor and outdoor lobbies. All include private gardens and pools and combines ancient and new with grandly modern Murano glass chandeliers, elaborate carvings, antique mirrors, and elaborately carved fireplaces with arabesque flourishes. Each room, suite or palace is a peaceful sanctuary enveloped by lush greenery designed for the utmost privacy and peaceful seclusion. The staff is gracious, discreet and ready with expert service, guidance and insiders advice.
Colorful bougainvilleas flow over the property's stucco walls. As the bright Moroccan sun dips into still darkness, flickering handcrafted lanterns line the pool flanked walkways, reflecting the waters like dancing constellations.
Dine on authentic Thai food at Le Sawadee, one of Palais Namaskar's three outstanding dining options. Chef Kiewsri Sasitorn offers delicately spicy authentic dishes with ingredients foraged from Palais Namaskar's vast organic gardens. Palais Namaskar's holistic spa is absolutely lovely and offers authentic hammam experiences and natural signature treatments using ILA products. There is a private gym and daily yoga classes.
Palais Namaskar
Route de Bab Atlas, No.88/69,
Province Syba, Morocco
011 +212 (0)5 24 29 98 00
palaisnamaskar.com
Ait Benhaddou Kasbah
Take a gorgeous and scenic five-hour hairspin turn drive into the heart of Morocco to get a deeper look at the heart of the region. Your destination? Dar Ahlam, in the storied Skoura oasis.
To break up the drive be sure to stop at the Ait Benhaddou Kasbah, a fortified, earthen clay city along the caravan route between the Sahara and Marrakech. This giant fortification is made up of six Kasbahs and is madly cinematic having appeared in dozens of films including Lawrence of Arabia, Time Bandits, The Living Daylights, The Sheltering Sky and The Mummy. Sections of the town have recently been used in the popular Game Of Thrones series as well.
Dar Ahlam
Dar Ahlam, which translates to the House of Dreams, is kasbah accommodation with an added wow. There's little about this dramatic cinema-worthy 19th-century, four-towered lovingly restored ancient Kasbah lodging that won't leave you deeply satisfied, awed and even a little bit transformed. Tucked away down a dirt road in the little-touristed area of southern Morocco, this exquisite hideaway is the passion project creation of Thierry Teyssier, a Parisian party and event planner. Dar Ahlam, a Relais et Chateaux member, is as luxurious as lodgings get, The Kasbah is dotted with Teyssier's personal collection of treasures (like an antique birdcage) from his global jaunts. Carved arched wooden doorways and decidedly dim, romantic passageways are lit with a mix of lanterns. Underfoot are handwoven berber carpets.
Each room is totally unique with a nomadic nod, and adorned with a mix of textiles from Paris and Marrakech, straw carpets from Mexico and wool rugs from Italy. Cashmere blankets are found in the closets. Quite appropriately, there is a wood-burning fireplace at the foot of the bathtub.
Dar Ahlam offers some of the best gourmet food in Morocco. Meals are an enchanting daily surprise depending on the day's theme. The menu combines traditional Moroccan specialties and the latest culinary innovations. Frederick Grasser Hermé is in charge of savory delights, and desserts are dreamed up by French pâtissier Pierre Hermé. At Dar Ahlam the dining venue is never the same. Each meal is served in a different location on the property and never with the same plates/silverware. The wonderful staff, who come from the local village, remembers what you ate and what you ate it on. There is no lobby or formal dining room. At meals, guests show up in the salon and are led to dine under a candle-lit tent, a picnic in the garden, pillow strewn low tables on the rooftop, by the pool or at dozens other uniquely dreamed up intimate, dramatic venues. The food is exquisite and sophisticated, yet, has rustic touches. It comes from Dar Ahlam's nine acres of gardens, which were designed by one of the gardeners behind the makeover of the Tuileries in Paris but are now maintained by a team of twenty Berbers from Skoura. Breakfast could be freshly baked breads and sugar sponge cake and crepes with homemade preserves and freshly picked kiwi. Lunch and dinner could be grilled chicken skewers with a fresh salad with vegetables foraged from the gardens.
Dar Ahlam's activities are also made for drama and cinematic flair. On offer are treks through the Valley of Roses capped with a picnic by a river, treks seeing daily traditional village life and exploring the land of the Kasbahs with expert Berber guides, and overnights in the desert to sleep in tents under the stars.
A not to miss highlight is a romantic traditional high tea at sunset on an isolated hilltop with stunning views. The guides set the scene ahead of time: roaring fires, flickering lanterns and oversized pillows on a soft rug made for two await. Tea is poured and sweets are laid out. Dar Ahlam truly is a house of dreams.
dar ahlam
Douar Oulad Cheik Ali, Skoura
(Province de Ouarzazate)
011 +212 (0)5 24 85 22 39
relaischateaux.com
Kasbah Bab Ourika
Kasbah Bab Ourika may be a newcomer to the Atlas mountain region, but it seems as if it's been there for hundreds of years. This red adobe forward thinking eco-minded marvelous gem of a hotel seamlessly blends into its the surrounding Berber villages and was built with local materials–palm tree trunks, mud and limestone. The hotel's solar panel heated water comes from a local well and its large garden supplies its restaurant. Rooms here are decidedly minimalist and comfortable resplendent with handcrafted Berber rugs, high quality sheets, deep soaking tubs and blazing fireplaces. The real luxury of Bab Ourika is its magnificently awe-inspiring, idyllic setting. It is flanked by the red rock canyons of Salt National Park, snowy Atlas mountains, Berber villages in the hills nearby and a bubbling creek below.
Food here is terrific and guests choose to dine under vine covered pergolas with gorgeous views of the surroundings, cozy alcoves or the grand dining room. The food is fresh, deliciously simple, and is sourced from the property's vast gardens. There is a pool on the grounds and an intimate spa offering authentic hammam scrubs. Adventures abound and guests can hike on foot or donkey through the mountains with their guides to visit nearby Berber villages where they are warmly welcomed with fresh baked bread and interpreted conversations in the villagers simple homes. Other activities include camel rides, water rafting and visiting nearby Marrakech. The guides that work with Bab Ourika are outstanding and all have deep knowledge of the areas they share with each exploration.
Slow leisure sets the pace at Bab Ourika, where an unopened book, a bench and soaking in the spectacular scenery is all you need to make extraordinary and memorable moments.
Morocco is one of those unique places that stirs all the senses and offers more than you can absorb in a single visit. Plotting your journey may leave you feeling a touch overwhelmed. Fortunately there are experts like Azurine Travel (see opposite page) to guide you and to guarantee your visits to the kingdom of Morocco are stirring and memorable.
Kasbah Bab Ourika
Ourika valley, Tnine Ourika, Morocco
011 +212 (0)6 61 63 43 24
kasbahbabourika.com
The beautiful Kasbah Amahidil in Skoura Oasis, Ouarzazate district – the land of a thousand kasbahs.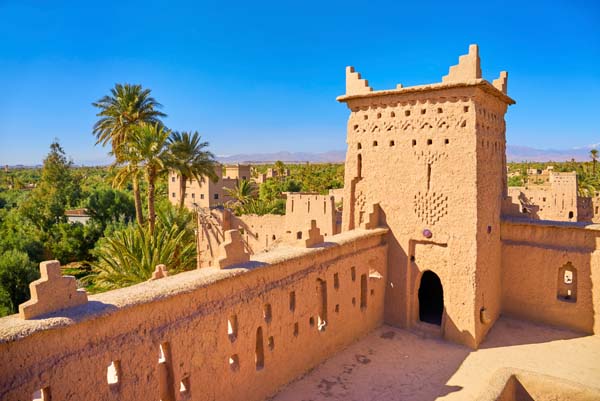 Insider's Morocco
Explore Morocco like an insider with 
the savvy, connected Azurine Travel.
Plotting a journey to and through a land as culturally rich, exciting and diverse as Morocco can leave a you feeling a touch overwhelmed, especially when it comes to selecting from a dizzying array of experiences to which of the alluring cities to visit and amazing sights to behold.
That's where bespoke travel experts Michelle and Roderick Murré, the resourceful, savvy and well-connected husband and wife principals of Azurine Travel can help. They have built a sterling
reputation for unfailingly putting together extraordinary tailor made itineraries geared for the discerning traveler looking for the perfect first or tenth visit to Morocco and other parts of the world — with an added ultra-luxurious twist. No matter how long you plan to stay or what your interests may be, you would want to have Azurine Travel on your side. They have that hard to come by insiders point of view and tight connections that are invaluable when it comes to finding the best a destination has to offer.
The Murrés specialize in incomparable itineraries and have built an impressive portfolio and roster of partners A few of the wonderful luxury touches they offer are 24/7 personalized access while you're traveling and consulting on all aspects of a trip before, during and after travel. They are the travel company you wish you always had.
Azurine Travel
+1 (415) 796- 3869 
info@azurinetravel.com