With its magnificent squares, awe-inspiring architectural landmarks and cultural offerings, no other European city comes close to being as perfectly beautiful as Prague.
Before and during the Cold War, Prague was beautiful. Trouble was, all the political turbulence that created satellite nations and spurred on the building of walls, made it hard to get to. During that lengthy period of time (1948 to 1989) we forgot that, to the east, there was a city with the power to enchant. A city of soaring spires, welcoming squares, world-class restaurants and hotels, and charming, friendly people bursting proud desire to share their city with the world. Then, seemingly overnight, all the barriers that kept us from Prague and the people of the newly minted Czech Republic from traveling freely, went away. Thanks to various forward-thinking rulers, Prague enjoyed a number of golden eras, during which magnificent squares and cultural institutions were built.
In the decades since the thaw, millions have passed through Prague. Unlike some heavily touristed cities Prague is a place that seems to have resisted the temptation to pander. Sure, there are few more t-shirt shops and economy hotels than there used to be, but the aim of the tourist industry appears to have been to continue to improve the quality of the visitor's experience, rather than cheapen it by offering frivolous distractions over culture and genuine experience.
Whether you're returning to Prague or making your first visit, a good "rule" is to enjoy only those things that are unique to the city. Starting with your accommodation.
Aria Hotel
The stylish contemporary Aria Hotel, in the heart of the Mala Strana district, is distinctively and impressively steeped in all things Czech, right down to the city's love affair with music.  Each of the four floors reflects a musical genre, such as Classical, Jazz and Opera and each room and suite are named for musicians or composers such as Beethoven, Maria Callas, Puccini, Dvorák and Louis Armstrong. Related books, art and music adorn the rooms. The rooms and suites feel like your private elegant Prague pied-a-terres rather than hotel rooms. A special suite is the Beethoven with its dolcissimo views of the Vrtba Gardens. A UNESCO World Heritage site attached to the Aria.  The gardens are the oldest Baroque gardens in the city and are available to Aria's guests via a private entrance. After hours is the best time to visit as the sun sets and you have the gardens to yourself. The Aria has two large screening rooms that can be booked for personal screenings and a cozy Music Salon where guests read music books in comfortable leather chairs by a fireplace. The dining is wonderful The art-filled Winter Garden restaurant serves light soups, salads and sandwiches and an impressive well curated breakfast buffet .
The fine-dining restaurant, CODA, serves up food on the rooftop terrace in the warmer months. Prague's stunning views of red roofs and spiral tops can be enjoyed with inventive modern Czech cuisine adorned on custom designed plates with caricatures of beloved musicians. Chef David Šašek uses only the finest, fresh seasonal ingredients from local growers prepared using the sous vide method.  Try to dine on the rooftop on a day the city is celebrating. If you're lucky, you'll catch a spectacular fireworks display over the nearby Charles Bridge. The dazzling view from Aria's rooftop restaurant of Prague's fireworks is truly unforgettable.
Be sure to visit the Music Library, where in-house music expert,  Dr. Ivana Stehlikova,  a Ph.D. in musicology will arrange hard-to get tickets, lend CDs and advise you on Prague's best musical events.
ARIA HOTEL
Tržišt 368/9,
118 00 Prague,
Czech Republic
+420 225 334 111
ariahotel.net
Four Seasons Hotel Prague
The Four Seasons Hotel Prague opened its glamorous doors  in 2001 and has come to be recognized by locals and cosmopolitans alike as the seat of luxury in Prague. The property is ideally situated in the tony Stare Mesto (Old Town) area near the  Charles Bridge and a short walk from the Old Town Square. (Request a river facing room for the best scenery that includes Kampa Island, Prague Castle or overlooking the rooftops and spires of this storied city.)
Architecturally, the facades of the hotel reflect the many ages of Prague: Renaissance, Classical, Baroque, and Modern, while the interior, designed by Pierre Yves Rochon is a melding of contemporary and antique rendered in striking blacks and whites. The rooms on each of the wings are also in keeping with the era. The rooms in the Renaissance wing are modern versons of classic 15th century accommodations featuring chandeliers, detailed moldings and oil paintings in gilt frames.
Also within the hotel is one of Prague's most remarkable restaurants, Cotto Crudo. Home of the some of the best Italian food outside of Italy, Cotto Crudo is the in place to be for a post-work/tour debrief on the terrace overlooking the magnificent Vltava River. Puglian Executive Chef Leonardo Di Clemente has trained and worked in Switzerland and spent five years in Tokyo, Japan. He applies his diverse and eclectic skill set to Cotto Crudo and delivers senses-lifting style to each of his dishes. Among the many must-haves on the menu, the Dorada Pizzaiola style with roasted pink prawns and fresh oregano, or the roasted veal tenderloin with veal sweetbread, pumpkin purée, grilled bell pepper coulis and green shiso, top the list.
FOUR SEASONS HOTEL PRAGUE Veleslavinova 2A/1098
110 00 Praha 1Staré Mˇesto Czech Republic
+420 221 427 000
US (800) 268-6282
fourseasons.com
Chateau Mcely
If you're the sort who likes a balance of urban and rural, the most romantic accommodation in Central Bohemia  can be found at the palatial, modern Chateau Mcely, situated at  the edge of the wld mushroom dotted St. George Forest. Only an hour northeast of Prague yet a serenely stunning world away.
Part hotel, part spa, part forest retreat, and all classically beautiful luxury, the five-star, eco-chic Chateau Mcely is anything but ordinary. American James Cusumano and his Czech born wife Inéz acquired the chateau in 2004. After an extensive two year renovation, they opened their updated and finely appointed hotel in 2006. The response has been astounding and the former 300 year old hunting lodge turned hotel has been the site of  many weddings, events, corporate and otherwise, along with a home away from home for traveling princesses and princes.
Special surprises and designer touches abound such as the upstairs library which houses 18th-century scientific instruments, and the basement Alchemist Club which is home to a state of the art wine room,  a well-stocked humidor, and a vintage 1950s jukebox.
Piano Nobile Restaurant.
The Piano Nobile restaurant picked up the title of: "Best Restaurant in the Czech Republic"  from the Maurer's Grand Restaurant Guide of 2014 and is home to Executive chef Honza Šterba, who shares his culinary expertise in his cooking classes on offer at the hotel. His menus change with the seasons and in the evenings he offers a degustation menu that showcases some of Bohemia's finest ingredients. Dishes such as Lamb knuckle braised in meadow hay with onion marmalade, potatoes terrine  in a lamb jus of the fillet of pike perch over a warm vegetables salad, sprinkled with salmon caviar  in a sage leaf sauce, are worth the trip from Prague alone.  During the summer, the chateau patio overlooking the tranquil countryside is ideal  for those  looking to experience genuine Czech country hospitality.
Also, don't miss out on the spa. The treatments are as outstanding as the products, which are expertly crafted by Inez with locally harvested ingredients.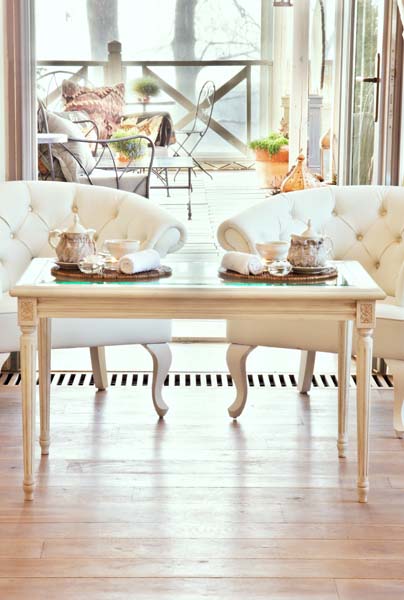 The natural light filled patio of Chateau Mcely is the ideal spot to enjoy afternoon tea;
The organic line of the Mcely Bouquet was developed by Inéz Cusumano, the co-owner of Chateau Mcely, to share the alchemical and herbal heritage of Bohemia and its healing energy. The Exclusive Collection consists of 17 pure, chemical free products such as Rose Night Serum, Calendula Face Mask, and Camomile and Daisy, and Yarrow  Body Oils.
Above: Each room and suite at Chateau Mcely is uniquely designed.  Decorative touches showcase local handiwork such as a thatch branch chandelier and a wrought iron beds and a writing desk.
---
Prague City
Cafe Savoy
Prague is one of gustatory capitals of the world and there are several destinations you'd be remiss not visit. Café Savoy , founded in 1893 is, an excellent example Evoking grand old European coffee houses, the Café Savoy is sheltered in a modernized Art Nouveau space complete with ornate glass chandeliers, balcony seating, inlaid floors and elaborately painted ceiling.
The self described bourgeoise Bohemian menu offers hearty Czech favorites like Bohemian snails with polenta, green butter, champignons and herbs and Beluga and Avruga caviar with traditional accompaniments. Do not miss the exceptional homemade breads.
Café Savoy
Vitezna 5
+420 257 311 562
www.ambi.cz
Field Restaurant
Another spot is the Field Restaurant.  One of Prague's most  excellent , fine dining experience (the service is exceptionally wonderful) and is relaxed and fun.  Chef Radek Kašpárek's  creative style is unsparingly rustic and refreshingly simple though never lacking in flavor or minimal for its own sake.
The Field relies exclusively on local ingredients delivered daily by Czech farmers. The menu is free-range and  depending on the season, you'll find  less common dishes of bull tendon, turbot, Bohemian snails,  fallow deer, along with hearty briskets and even casseroles.
Don't forget to sample the many local wines on the The Field's list. Unique offerings abound, especially from Moravia. the ryzlink rýnský VOC Dobrá vinice, is not to be missed. Dry, prefect acidity, made for Czech food.
Field Restaurant
U Milosrdných 12
+420 222 316 999
www.fieldrestaurant.cz
Mlýnec Restaurant
If you find yourself hungry while in the Old Town Square area your best choice is the Mlýnec Restaurant. The restaurant and it's al fresco dining patio overlook the Vltava river. in the shadow of the Charles Bridge, the view could not be more impressive. Chef Marek Šáda has trained with Michelin-starred chefs in the Czech Republic and he did a stint at the Culinary Institute of America, Greystone. Be sure to try the veal tartar and the butter seared Bohemian trout.
Mlýnec Restaurant
Novotného lávka 199/9, Staré Mesto, 110 00 Prague, Czech Republic
+420 277 000 777
www.mlynec.cz/
ABOVE: The ultra-romatic Mlynec Restaurant commands unobstructed views of the  Charles Bridge. Secure a table outside overlooking the Vltava river.
---
You've got your food and shelter sorted out, next vital need to be met is, where to shop? Good news is, just about anything you might be looking for is readily available in Prague. As it is one of Eastern Europes hub cities it also offers an abundant array of unique to the region items. Shops of note are:
Artel
Operated by expat New Yorker Karen Feldman, Artel showcases her stunning glass, jewelry and more. Feldman's stylish works include handmade crystal glassware. Her luminaire client list includes, Rolls-Royce, Asprey, Manolo Blahnik, Giorgio Armani, and Gucci.
Boheme
Specializing in knitwear, sweaters, turtlenecks, and cardigans, along with a leather collection the incldues chic handbags, Boheme, offers distinctive style paired with impeccable quality. The fashions found here, designed and produced by Hana Stocklassa, will set you apart and keep you warm for seasons to come.
Manufaktura
Uniquely and thoroughly Czech, Manufaktura is the ideal place to grab gifts for your family and friends back home. They offer all-natural soaps and bath products along with craft items made in the traditional ways by Moravian and Czech artisans.
If you're not much of a shopper or need a cultural fix, there are few places in Europe better supplied with amazing museums, castles and artifacts than Prague. One location to put on the top of your must-see list is Lobkowicz Palace.
Lobkowicz Palace
The Lobkowicz Palace, a UNESCO World Heritage Site, was built in the second half of the 16th century.  It is  home to one of the world's foremost musical archives and features several of Beethoven's original manuscripts and is the largest private collection of baroque music for plucked instruments, The Music Archive also includes the manuscripts of late 18th- and early 19th-century masters like Handel, Mozart, and Haydn. The palace has an  extensive  medieval armor collection, a cafe with   delicious food and wine offerings matching the gorgeous views of Prague.  Don't miss one of it's  daily concert  at the  stunning 17th-century baroque concert hall.
Prague offers a wonderful array of sights and experiences  such as The Prague Castle, the Prague Astronomical Tower, the Jewish Museum, the Charles Bridge and Bridge Towers, and many architectural and cultural delights.
Prague is a city of endless, discovery and delight. It  also has amazng beer. And, the people are genial, warm and proud of their city. This is tremendous literary history (Kafka's birthplace).  Whether you opt to spend a few days in Prague or a week, a month, even a lifetime, there will always be new, and very old, things to discover.
Attentive, friendly service awaits from Premium Boarding, Delta Sky Priority Experience check-in to touchdown in Prague. In-flight, enjoy a delightful array of dining options accompanied by fine wines and a full compliment of spirits. Entertainment options are plentiful, or stretch out in the premium seats and get a few of undisturbed hours sleep.
Traveling KLM/Delta Business Class is your first and best step to arriving rested and refreshed in Prague, and anywhere else your travels take you.