"Of all the gin joints, in all the towns, in all the world, she walks into mine."
Humphrey Bogart
Movie-Casablanca
It is midday in early September in NYC. I walk into the Clocktower restaurant of Edition Hotel. Leaving behind the crisp autumn air outside, I enter a warm dining room depicting a club setting. I can't conceal my enthusiasm upon meeting Ms. Myriam Hendrickx, the master distiller of Rutte, a botanical distillery founded in 1872 in Dordrecht, Netherlands.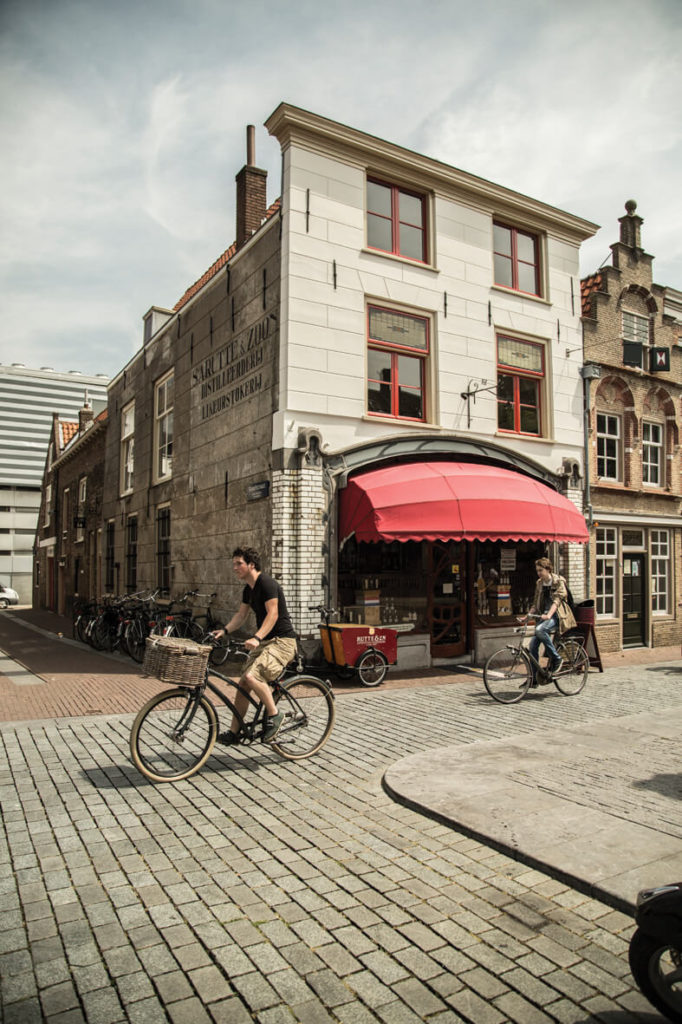 Rutte distillery
Ms. Hendrickx is a former food engineer, one of the few female master distillers in the world. We start talking, and she tells me she is here for Oyster Week in New York. From the bar's cocktail menu, we order the Brooklyn Zoo, a cocktail made with Rutte genever. As we enjoy our drinks, Kevin Joseph, the mermmelier, joins us. If you aren't familiar with this term, it's because it is coined and trademarked by Kevin himself to refer to a sommelier of oysters.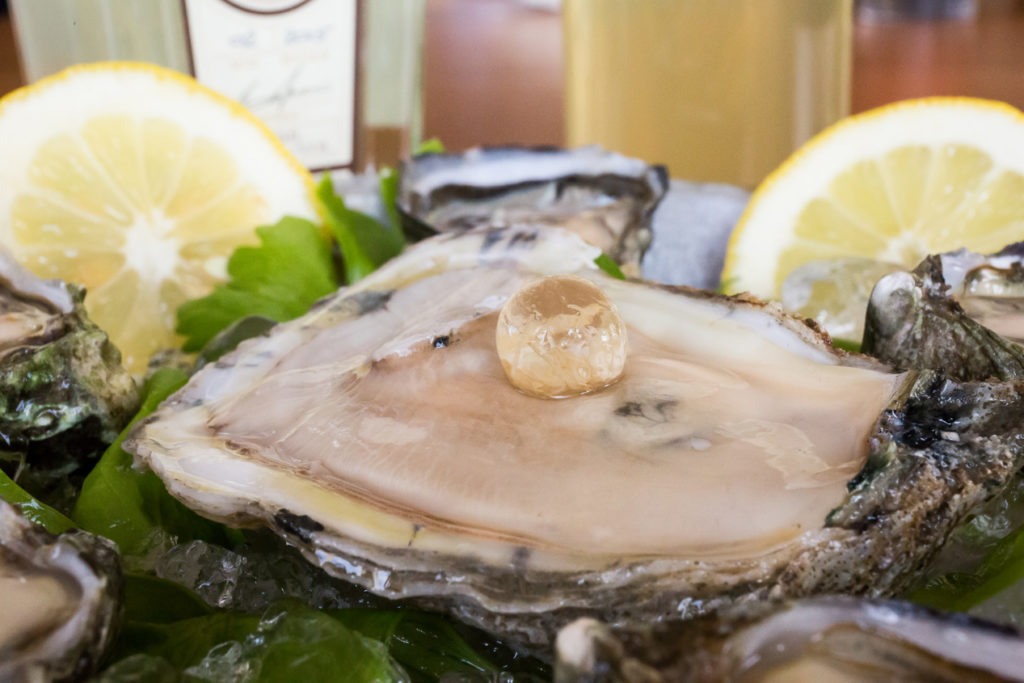 Oyster with a Rutte gin pearl spirit (photograph by Margaret Pattillo)
Kevin and the Rutte genever team have made creations of molecular gastronomy, making edible pearls with spirits inside.
As he discusses the particulars of the in-house oysters with the waiter, Kevin informs us that we are about to enjoy our oysters with a spirited pearl of Rutte celery gin. Kevin and his team have created a "process of molecular gastronomy, making edible pearls with spirits inside." The crowned queen shines flawlessly in the reflected rays of sun coming through the windows. As I lift this precious oyster, floating in its salty brine with a shiny, crowned pearl on top, I realize that all my senses are only one, culminating in a desire to taste this crowned queen oyster. I know I am putting to shame all of my favorite $1 oyster hangouts in Manhattan, but now there is no going back. The oyster in all its salty glory, with a bonus pop of gin, tastes like a little bit of heaven. This culinary experience must be added to every person's bucket list.
Rutte Gin (photograph by Margaret Pattillo )
Myriam begins telling me the story of Rutte Distillery. As the ice in my drink starts to melt, with it melts my surroundings, and I am transported to 1872 in the town of Dordrecht. It is the oldest city in Holland, located in a wetland area, and the rivers of Merwede, Noord, and Ouwe Maas surround the city and create an island setting. Here our story of genever begins as the predecessor of today's gin.
In 1872, Simon Rutte chose this city strategically as an important merchant hub.
Local ships came to town carrying sailors and exotic spices, botanicals, and nuts from faraway places. Simon purchased his fruits from the Dutch East Indies and herbs locally and opened his distillery in the middle of the town. Seven generations later, the Rutte Distillery is still in the same building, where gin tastings take place in the family's old living room.
I ask Myriam how she got into the business.
"As a food engineer, I was completely immersed in the food industry of Holland, especially the dairy. However, I have also always been curious about the spirit business, as it is complex and secretive. The Rutte Distillery is a widely known brand due to its longevity in the industry as well as its premium genevers and gins, but it is also known for its inaccessible nature. I had heard that it does not use any commercial extract or attempt to implement any modernization."
Myriam continues, "When I first walked in to my interview with John Rutte, the last living Rutte heir and the seventh-generation master distiller, I could not believe my eyes. I remember telling myself, this cannot be true. Somehow time has stopped in the distillery. Mr. Rutte was sitting on a wooden crate, a bucket between his legs, peeling oranges to make his handcrafted genevers and gins."
Myriam Hendrickx The master distiller (photo credit Rutte distillery)
Everything in the place is original, pure, and clean.
There is something about the place. Everything is original, pure, and clean. Old family recipes are still being used, some of them even written on the backs of receipts and stuffed in envelopes. They are complex recipes and very hard to follow, the sort that is written by an expert just for himself – a note, not a real recipe – but there are also tons of recipes written by true chemists and "composers," with technical nuances combining harmonious melodies of aromas and tastes. With John's passing soon after, Myriam became the torchbearer of this beautiful artisan craft, and she considers herself part of the eighth generation of the Rutte family.
I ask her what she loves most about her job. "I bike to work, of course, this is normal for a Dutch. Then I walk from the cobble-stoned streets into this beautiful little building. Our distillery perfumes the air in the whole area, as we devote days to roasting walnuts and hazelnuts. We must roast it until very dark to give the gin genever the necessary bitter taste. We extract oranges, berries, junipers, coriander, caraway, and anise, to mention a few."
With a hint of pride in her eyes, she tells me that her favorite choice from their collection is the Old Simon genever, created bynamed after the founder Simon Rutte. The gin's roots are in genever, founded by the Dutch in the 16th century, first distilled from grains, and later juniper and other botanicals were added. At one point, genever was a large export to the UK and, in the later part of the 19th century, to the US. In the 20th century, genever exports came to halt with the two world wars, among other reasons. Later, British evolved the genever into gin making.
Genever has started a big comeback, especially with today's celebrity mixologists.
Despite their shared history, gin and genever are in two different categories today.
While Myriam and her assistant continue exploring new gins, they maintain the principal foundation, making each variety batch from fresh harvested fruits and botanicals. Much like the musical notes that make up a song and the various shades of color that make up a painting, Myriam's genevers and gins are like the principles of a perfume composition. Each has three layering notes: the base note, heart note, and top note.
She tells us that genever has started a big comeback, especially with today's mixologists who have achieved new celebrity status, making exotic cocktails using their own created syrups and locally sourced fruits and vegetables. Hosting guests at home parties is often centered on a signature cocktail and food that pairs well with it.
Food and drink pairing is more fundamental than people think.
I also meet with David Rosengarten, two-time James Beard Award winning author and food expert who had the first show on the iconic Food Network, at none other than the Grand Central Oyster Bar, founded in 1913. I ask him about pairing cocktails and foods, mentioning that the task is often confusing. He says, "pairing is more fundamental than people think – peanut butter and jelly, coffee and milk." He tells me that he often stays with a cocktail choice throughout his dinners, with foods like Chinese, Indian, Thai, and Mexican. During "Tales of Cocktail" in New Orleans, the Rutte genever cocktail, Embrace de la terre, became the official winner. David paired it with a crab salad that had peach in it to pick up the sweetness.
At home, it's a rainy evening, I finally try Rutte "Old Simon" Rutte genever not as a cocktail but neat as the Dutch enjoy drinking it. I remember Myriam's composition of genever making and pay attention to the three main notes of citrus and spices. With each sip, first comes the top note – coriander and fresh berries from the coast of Holland dance on my tongue. I taste the oils of juniper as the heart note layers harmoniously on the base notes of orris root, angelica, and licorice.
Cheers, to all things that celebrate nature and artisan craftsmanship!